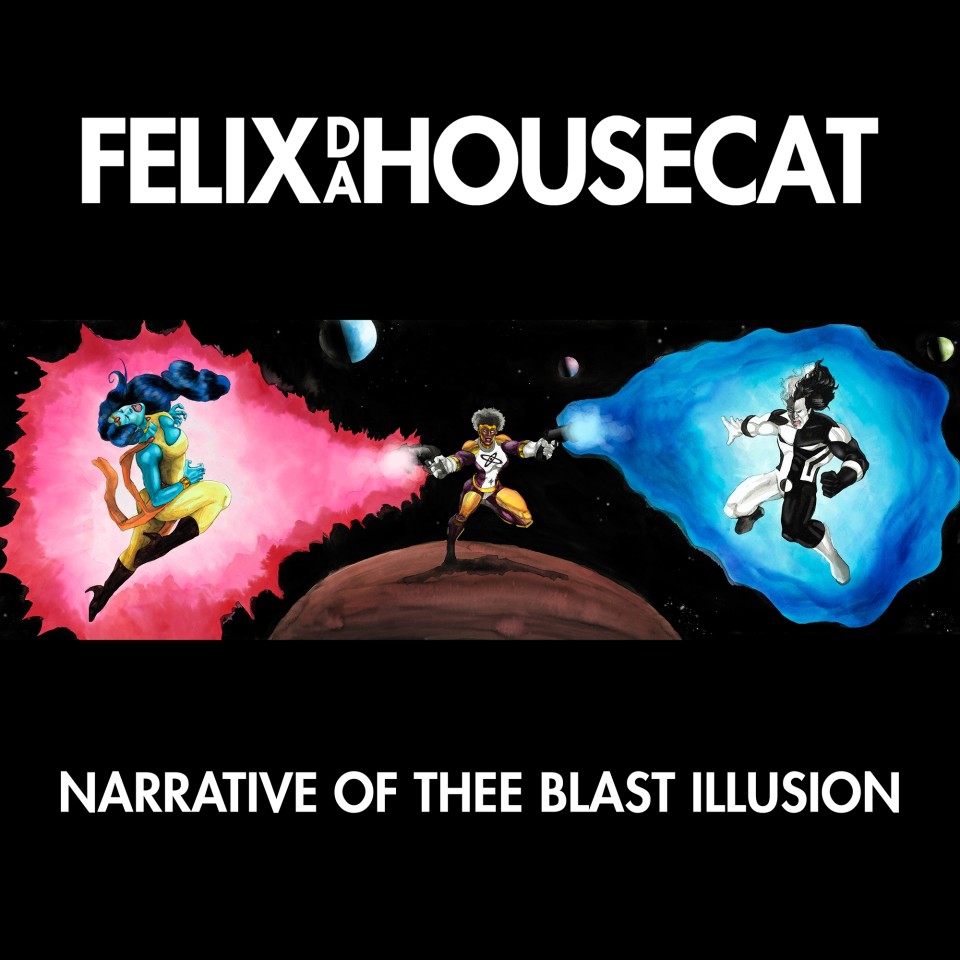 Today, July 10th, 2015, Felix Da Housecat's first full length LP since 2011, Narrative of Thee Blast Illusion. The album features a wide range of collaborators, from legendary Dub producerLee Scratch Perry to the oft Felix collaborator Romina Cohn. Felix had this to say about the album:
"This one took 3 years to make. For me, an album is like a high school yearbook and so it's an experience and a challenge, explains Felix. "I'm going to say this in the least Kanye way possible – and I love Kanye West, I'm from Chicago! – but I've come to a stage in my life where I've proved and done everything I have done as Felix from 'Fantasy Girl' to through the streets of techno – so I don't have to prove myself to the new generation. I make what I like and try not to get caught up. My intention is not to make a million from this album. It's all about moods."
Felix has received a lot of press from the album already. Vice THUMP premiered both the album stream and the record's first single, "Is Everything Ok?".  The video for the first single was premiered on Blackbook, and Complex premiered the Felix/Lee Scratch Perry collaboration, "The Natural". Below is a list of some press already received for the album.
Check out the album art for Narrative of Thee Blast Illusion, along with a track-list and a full list of tour dates.
Felix Da Housecat – Narrative of Thee Blast Illusion
Release Date: July 10th, 2015
Tracklisting:
1. ?Why Games
2. Lookin 4 A Reason
3. Codeine Cowboy
4. Is Everything Ok?
5. The Natural (feat. Lee Scratch Perry)
6. Candy Talk
7. Karma's Catchin' Hell
8. Queer (feat. Romina Cohn)
9. Freakz On Time
10. Turn Off The Television
11. Devon's Box
Tour Dates
7/10: Los Angeles, CA @ Sound Nightclub
7/11: Chicago, IL @ Mamby On The Beach
7/11:Chicago, IL @ Evil Olive
7/17: Dubai, UAE @ Provocateur
7/23: Antwerp, Belgium @ The Day Before Tomorrow
8/1: Porto Rotondo Sardinia, Italy @ Country Club
8/5: Mykonos, Greece @ Paradise Club
8/7: Barcelona, Spain @ Razzmatazz
8/15: Utrecht, Holland @ TivoliVredenburg
8/27: Koh Samui, Thailand @ Nikki Beach
8/12: Knokke, Belgium @ Kitsch
8/22: Ibiza, Spain @ Vista Club
8/28: Singapore @ Kyo
8/29: Bali, Indonesia @ Ku De Ta
9/5: Tokyo, Japan @ Vision
9/4: Shanghai, China @ Bar Rouge